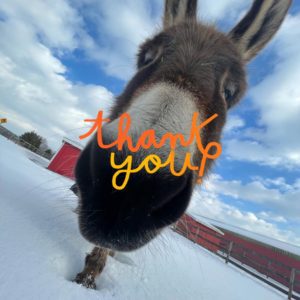 Platinum Award Up to $10,000
 2022
Jane Wood
William E. Cross Foundation, Inc.
Sandy and Ron Zobrist
2021
William E Cross Foundation
Sandy and Ron Zobrist
Dwight Nissley
Silver Award Up to $2,500
2023
Donation in Honor of our Wonderful Volunteers
Michael King
 2022
Rose Bartz, Long & Foster
2021
The Saad Family
Lee Sayrs
Jennifer David in Memory of John David
Copper Award Up to $1,000
2023
Susan Snyder
Devon Lawrence
Andrew Nitz
Carol and Norman Birzer
David Hechinger
Ijamsville United Methodist Church
2022
Honor of Our Wonderful Volunteers
Carol and Norman Birzer
Joyce Shry
Jennifer David
Julienne Biglin
Melinda Lukhard
Michael King
Devon Lawrence
Andrew Nitz
Dominion Energy
Lewistown District Volunteer Fire Department
St Paul's Lutheran Church
Martha Chitwood
Rose Bartz
In Honor of Kathie Brockhouse
Judy Hechinger
Lisa Duckson
Bryan Haines
Jim Sayers
Robin and Allen Haines
Kurt Schaeffer
Michael Eissenstat
Butch Powell
Susan Compofelice
The Old Towne Restaurant
Connie and Lyman Myers
Jan and Bill Flynn
The Clune Family
Andrea Myers Mannix
FADS
Mt. Airy Mattress
Thurmont Lions Club
Catoctin High School LEO Club
Sandra Powell
Jackie and Dan Thomas
Golden Gears Car Club
Helena Madison in memory of
John Madison
2021
Eva and Bob Atkinson
Jennifer David
United Health Care Employee
…Match
Mary Kay Sweeny
Judy and David Hechniger
Joan Kruk
Andrew Nitz
Devon Lawrece
Mike King
Sharon Patriick
Connie and Lyman Myers
Helena Madison
..In Memory of John Madison
The Clune Family
FADS Show – Lewis Raulin
Golden Gears Car Club
Jackie and Dan Thomas
Norman and Carol Birzer
The Featherstone Family
Thurmont Lions Club
LEO Club of Catoctin H.S.
Rose Bartz
Vickie ans Mike Fried
Kenny Shumaker, Key Sanitation
The Kitchnette LLC
Robert Kazdin
Randy Rose Family
Rosebud Perfume Company
Melinda Lukhard
Dominion Energy Employee
.Match
Orange Theory Fitness
Judy Mellor
..in Memory of Joseph Dominick
Brow Bands for Charity
Amazon Smile Jan to Mar
Joanne Petersen
Irene Brierley
Ronnie Osterman
Ben Myers Family
Susan Stroup
Philip and Jennifer Powell
Jeffrey and Rebecca Main
Offutt, Horman Burdette & May
Grimms Automovation
Dustin Construction
Lewistown Ruritans Club
Evergreen Liquors
Judy and David Marwick
Zoe O'Brien
Joy Jenkins
..in memory of Billy Joan Harper
FaceBook Donations
4H Beef, Sheep & Swine Sale
Clifford Hevner
Brookfield Pumpkins
Shelton Plumbing and Heating
GRANTS
Funds held at Community Foundation of Frederick County, www.frederickcountygives.org
Donations made to  this fund made by Andrea Myers Mannix
The Rotary Club of Carroll Creek (ROCC) Grant provided funds for farrier and veterinarian care.