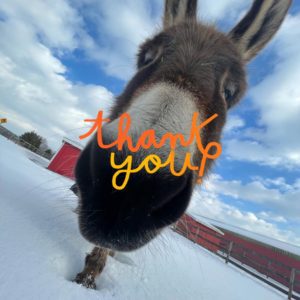 Platinum Award Up to $10,000
2020
Delaplaine Foundation Grant
2019
Cornerstone Advisors Group LLC
 2021
William E Cross Foundation
Sandy and Ron Zobrist
Dwight Nissley
2020
Alia Nissley and Family
Joseph D. Baker Fund
G. Frank Thomas Foundation Grant
Monocacy Foundation Grant
2019
The Joseph D. Baker Fund
Mary Kay Sweeney
William E. Cross Foundation
Ron and Sandy Zobrist
Larry Hurley – hay bales
Rose Bartz
The G. Frank Thomas Foundation
Silver Award Up to $2,500
 2021
The Saad Family
Lee Sayrs
Jennifer David in Memory of John David
2020
Mike King
Jennifer David
Lee Sayrs
Kiwanis Club of Frederick County
Rose Bartz
Eva and Bob Atkinson
Ann Moxley
Samantha Heyison Family
Carol and Bob Sharpe
Karolyn Lilly
Jim Sayrs
Mary Kay Sweeney
Leah Myers
2019
Lewistown Ruritans
Synmat
Frederick Area Dressage Shows – FADS
Club Next
Kiwanis of Suburban Frederick
Janielle, Ken and Mahri Saad
Jane Wood
Kiwanis Club of Frederick Foundation
Common Market Co OP
TIAA Charitable
Lee Sayrs
Sean Bartz – gravel
Plamondon Hospitality Partners
Wanda Bates
Susan and Rich Blickenstaff
Rotary Club of Carroll Creek
C.Rodman & M.Jean Ogle Myers Fund at CFFCLee Sayrs
Alia Nissley Family
Copper Award Up to $1,000
2021
Eva and Bob Atkinson
Jennifer David
United Health Care Employee
…Match
Mary Kay Sweeny
Judy and David Hechniger
Joan Kruk
Andrew Nitz
Devon Lawrece
Mike King
Sharon Patriick
Connie and Lyman Myers
Helena Madison
..In Memory of John Madison
The Clune Family
FADS Show – Lewis Raulin
Golden Gears Car Club
Jackie and Dan Thomas
Norman and Carol Birzer
The Featherstone Family
Thurmont Lions Club
LEO Club of Catoctin H.S.
Rose Bartz
Vickie ans Mike Fried
Kenny Shumaker, Key Sanitation
The Kitchnette LLC
Robert Kazdin
Randy Rose Family
Rosebud Perfume Company
Melinda Lukhard
Dominion Energy Employee
.Match
Orange Theory Fitness
Judy Mellor
..in Memory of Joseph Dominick
Brow Bands for Charity
Amazon Smile Jan to Mar
Joanne Petersen
Irene Brierley
Ronnie Osterman
Ben Myers Family
Susan Stroup
Philip and Jennifer Powell
Jeffrey and Rebecca Main
Offutt, Horman Burdette & May
Grimms Automovation
Dustin Construction
Lewistown Ruritans Club
Evergreen Liquors
Judy and David Marwick
Zoe O'Brien
Joy Jenkins
..in memory of Billy Joan Harper
FaceBook Donations
4H Beef, Sheep & Swine Sale
Clifford Hevner
Brookfield Pumpkins
Shelton Plumbing and Heating
2020
Wanda Bates
Grimm's Automovation
Mahri Saad Family
Karen King
Susan Snyder
Amanda Gibson
Sally Smith
Stephanie Koziski
Kathryn Eszeki
Jeannie and Daniel Beall
Colleen Allen Family
Ellen Chitwood
United Health Care Employee
..Matching
Memory of John Madison
Barb Carr of Sew What Blanket Cleaning
Ralph Caretti
Kelly Schulz
Annalisa Nelson
Jane Wood
Devon Lawrence
Ashley Goldsborough
Judy Smith
Kathleen Cleveland
Mt. Airy Mattress
David Hechinger
Melissa Stitt
Dale Clabaugh
Butch and Mary Powell
2020
Connie and Lyman Myers
Jeanette Patterson
Matthew Porter Family
Bradley Robinette Family
Randy Rose Family
Thermo Scientific
Carolyn Bell
Robert Kazdin
Lewistown Ruritan Club
JoAnne Leatherman
Juanita Bowers
Steven Taylor
Kathy Seiler
Mary Ellen Palko
Joyce Shry
Billy Barnhard Family
William Castle
Dominion Energy Employee Matching Fund
Melinda Lukhard
William C. Bell
Carol and Norman Birzer
Larry and Dawne Howard
Maxine Fritz
Joan and Russ Thompson
Darlene Nicholson
Dr. and Mrs. Joseph Ashwal
Diane and Steven Bill
Melissa Featherstone Family
Katherine Echols
Andrew Nitz
Ginger Reece
Joseph Snyder
James Plamondon, Plamondon Companies
David Marwick
2019
Wanda Bates
Eva and Bob Atkinson
Janelle, Ken and Mahri Saad
Karen King
Susan Snyder
Jennifer David
Kathleen Cleveland
Rose Bartz
Ann Moxley
Mt Airy Mattress
David Hechinger
Dale Clabaugh
Grimm's Automovation
Christopher Heffron
Knights of Columbus
The American Legion Francis Scott Key Post 11
Corie Greg
Frederick Business and Professional Women's Club
Mr. and Mrs. RA Patterson
Rose Bartz
Georgina and Scott Engler
Mike King
Eric Rodgers
MD Horse Industry Board
Donations in Memory of and in Honor of
Michael Eissenstat in Memory of Chris Eissenstat
Linda MacDermid to Honor Karen King
Donations in memory of William Storey
Jill Storey in Memory of William Storey
Jennifer David in Memory of John David
Truby LaGarde in Honor of Barbara "Bobbie" Denn
Donations From Riders to Care for Their Horses
Diane Waggy and Family for Silver
Maddy Sperling and Family for Tucker
Donations to the Frederick County 4H Therapeutic Riding Fund at the
Community Foundation of Frederick County
Susan Compofelice
C. Rodman Myers
Donations to the Kiwanis Club of Frederick Fund at the Community
Foundation of Frederick County
Amazon Smile Donations – 2020
TORO MOWER RAFFLE
The Hitch Man in Taneytown, MD, in conjunction with Toro and Equine Equipment
proudly donated a Toro mower to the Frederick County 4-H Therapeutic Riding
Program. The Toro Mower was raffled off as the program's only fund raiser in 2020. It
is very fitting that one of our therapeutic riding parents, Michael Vautaw's parents, won
the mower. Adam Peno, of The Hitch Man and Steve Andersen of Equine Equipment are proud to support our program.